Solutions
Elevate Your Business with Customizable Music & Messaging Solutions
Transform your customers' experience with tailored music and audio messaging from CUSTOMtronics.
Elevate Your Business with Personalized Support
Create the Perfect Atmosphere with Our Music & Messaging Solutions
At CUSTOMtronics, we understand that creating the right atmosphere is key to making your customers feel at home. That's why we offer Music for Business and In-Store Audio Messaging solutions that are tailored to meet your unique needs. With the help of our Personal Account Representatives (P.A.R.), you'll receive prompt and personalized service, ensuring your solutions are set up and functioning exactly as you need them. Let us help you create an unforgettable customer experience.
Testimonials
What our clients say about us
"Your selection of music provides me exactly what I need."
"Thank you for your attention to detail and our schedule; I'm glad we changed to your company."
"This is the most professional installation in years. I sent pictures throughout my team, showing what a good job looks like."
"They showed such a dedication to helping me understand the process and truly making sure everything was set up the best possible way. It was great working with Customtronics!"
Music For Your Business
Choose the Right Music Path

Expertly Curated Channels
Improve your business atmosphere with our professionally curated music channels, tailored to specific industries and trusted by thousands.

Blend Your Favorite Channels
Mix and match our expertly curated channels to create the perfect playlist for your business.

Import Your Existing Playlist
Easily integrate your existing playlist with our multi-million track library using our Import Playlist feature.

Branded Music Channel
Create a unique, branded music experience for your guests with our Branded Music Channels feature.
Enterprise Software
Streamline Music Management
Our solutions make it easy to control the atmosphere and create a consistent experience for your customers. With advanced features like Dayparting, Tiered Access, and the ability to block songs/artists, you can focus on running your business while we handle the music.

Block explicit lyrics
Ensure compliance with regulations by using our pre-blocked, professionally curated channels and easily block custom playlists.

Effortless Dayparting
Automatically adjust your playlist with our Dayparting feature, freeing up time for you to focus on your business.

Customizable Permissions
Maintain control over your music with our Tiered Access feature, easily assigning permissions based on employee, store manager, regional, or corporate level.

Personalized Blocking
Customize your music by easily blocking any song, artist, or genre from playing.

Exclusive Music for Each Location
Play the best music for each of your locations, with a unique atmosphere for your customers.

Add Promotions and Announcements
Share store promotions and sales with your customers by adding regional or local announcements.
Enhance Your In-Store Experience
Connect with Customers through Audio Messaging
As customers visit your store, take advantage of the opportunity to engage with them and deliver relevant messaging. Whether you choose to use our talented voice artists or record your own in-house messaging, audio messaging is a powerful way to reinforce brand messaging and drive customer loyalty.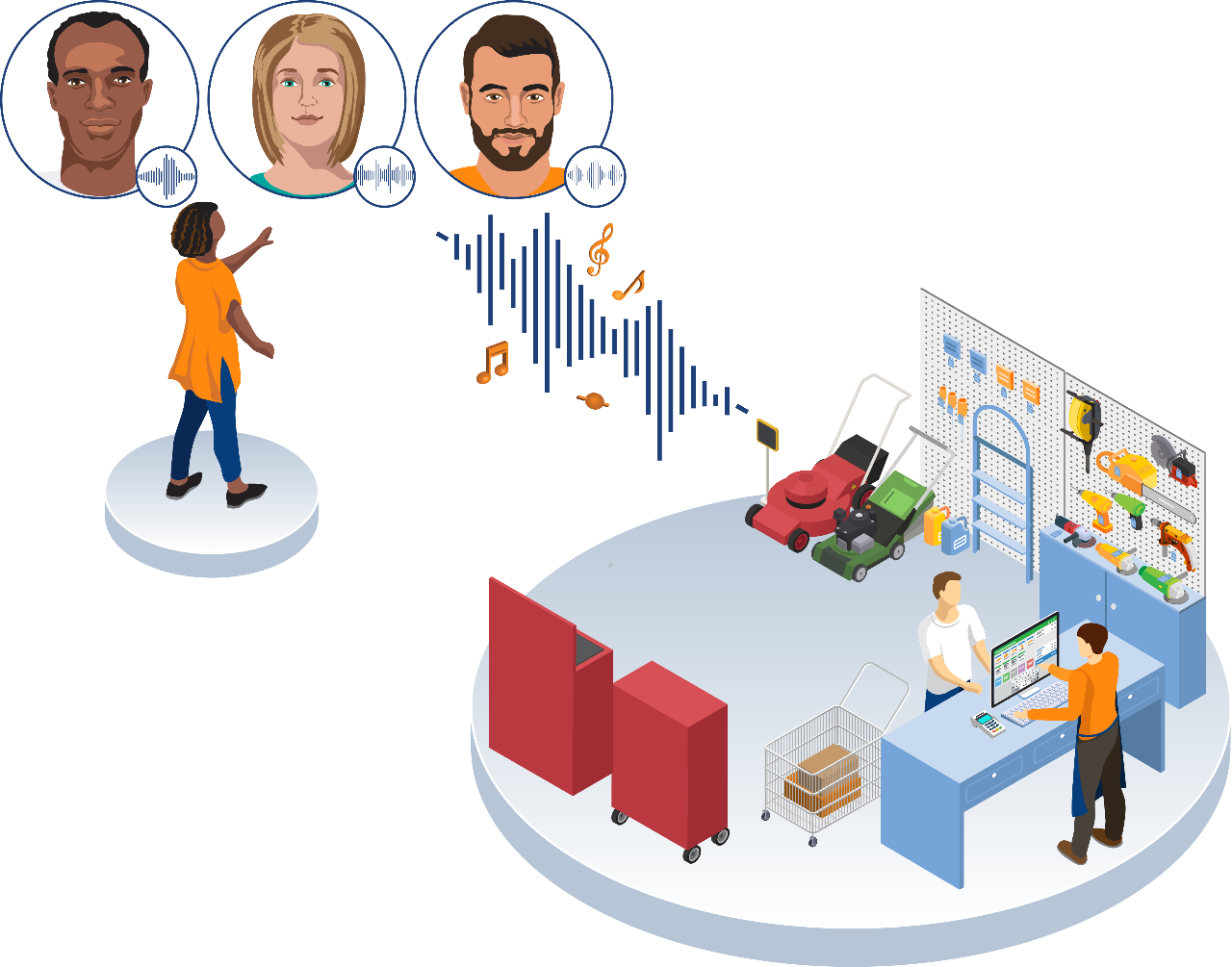 In-Store Audio & Video Systems
Get Expert Help with Your System Design & Implementation
Implementing a new audio and video system can feel daunting, but with the help of our team of experts, it doesn't have to be. We specialize in these projects and will work with you every step of the way to ensure a successful setup. From understanding your specific goals to handling the technical details, we've got you covered. Trust us to bring your vision to life, so you can focus on your business.
Let's Talk Shop
Elevate Your Business with Custom Sound Solution
From in-store audio messaging to music for business, CUSTOMtronics provides the solutions you need to connect with your customers and create the perfect atmosphere for your business. Let us help you expand your brand and achieve your goals with our customer-first approach.