Your Sound, Your Brand
Set the Tone: Custom Music & Messaging for Your Business
Enhance customer loyalty and boost sales with our fully customizable audio solutions.
Personalized Service, Unmatched Experience
Experience the CUSTOMtronics Difference
Creating the right atmosphere is key to customer satisfaction. With our Personal Account Representatives (P.A.R.), you'll receive prompt and personalized service, ensuring your solutions are set up and functioning exactly as you need them.
Client Testimonials
Our Success is Measured by Your Satisfaction
"Your selection of music provides me exactly what I need."
"Thank you for your attention to detail and our schedule; I'm glad we changed to your company."
"This is the most professional installation in years. I sent pictures throughout my team, showing what a good job looks like."
"They showed such a dedication to helping me understand the process and truly making sure everything was set up the best possible way. It was great working with Customtronics!"
The Soundtrack to Your Success
Customized Music Solutions for Every Business
Music is more than just background noise; it's a powerful tool for shaping customer experience. Our tailored solutions ensure that your business sounds as good as it looks.

Expertly Curated Channels
Elevate your brand's atmosphere with our expertly curated music channels, designed to resonate with your target audience.

Blend Your Favorite Channels
Mix and match our curated channels to create a unique auditory experience that aligns with your brand.

Import Your Existing Playlist
Seamlessly integrate your existing playlists with our extensive music library for a truly personalized experience.

Branded Music Channel
Create a unique, branded auditory experience that captivates your customers and amplifies your brand.
Enterprise-Grade Software
Unlock the Full Potential of Your Business with Our Enterprise Software
Achieve a seamless customer experience with our enterprise software. Advanced features like Dayparting, Tiered Access, and song/artist blocking let you concentrate on your core business.

Block explicit lyrics
Maintain a family-friendly atmosphere with our pre-blocked channels and customizable lyric filters

Effortless Dayparting
Automate your playlist adjustments with our Dayparting feature, letting you focus on what matters—your business.

Customizable Permissions
Exercise granular control with Tiered Access, assigning permissions from employee to corporate levels.

Personalized Blocking
Tailor your playlist down to the last note by blocking specific songs, artists, or genres.

Exclusive Music for Each Location
Create a unique auditory experience for each location, enhancing customer engagement.

Add Promotions and Announcements
Amplify your promotions and announcements directly through your music system, reaching customers when it matters most.
Boost In-Store Engagement
Connect with Customers through Audio Messaging
Take advantage of customer visits to deliver relevant messaging. Whether you opt for our talented voice artists or your in-house recordings, audio messaging is a potent tool for reinforcing brand values and boosting customer loyalty.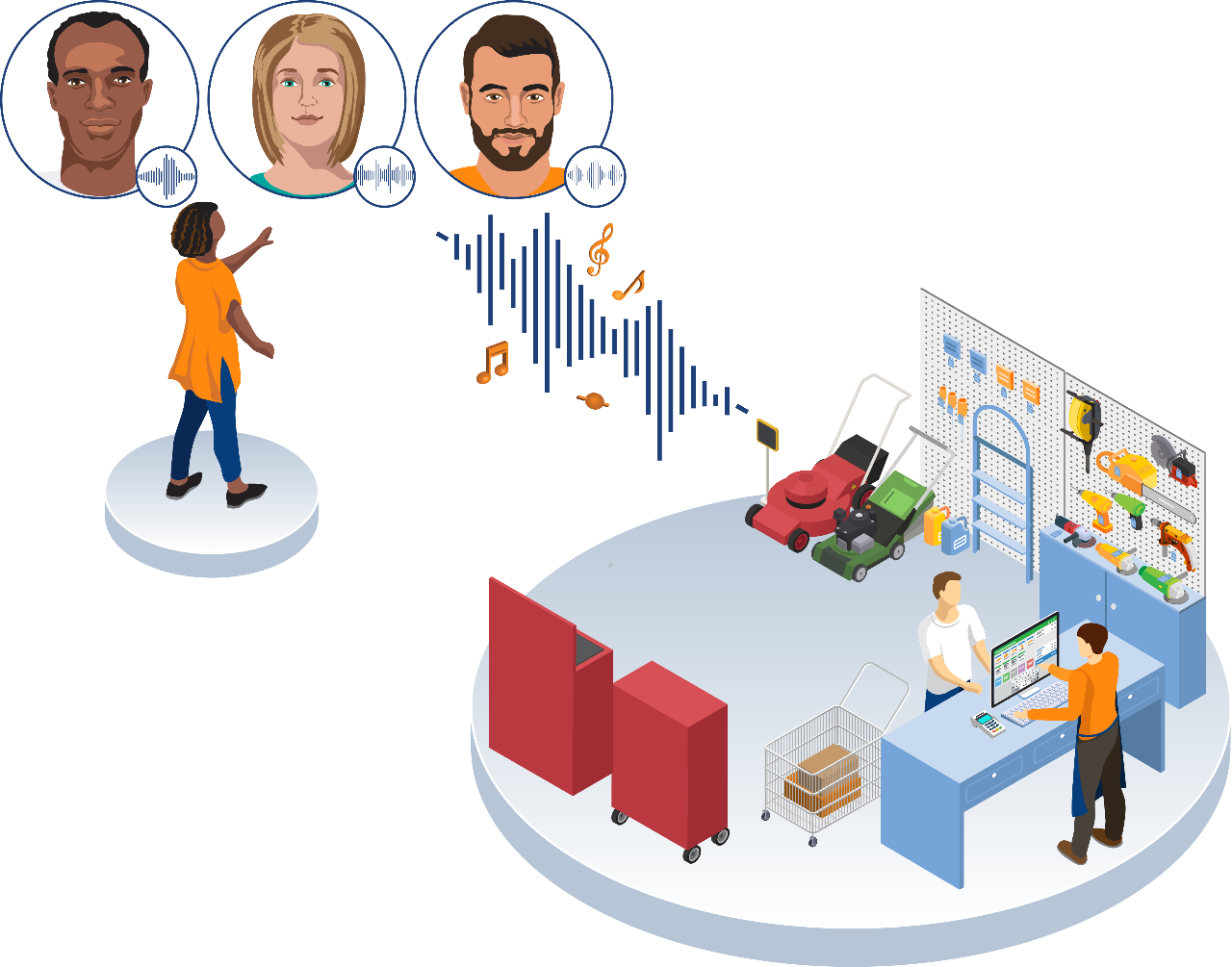 Your Vision, Our Expertise
Tailored Audio & Video Systems for Your Business
Implementing a new audio and video system can feel daunting, but with our team of experts, it doesn't have to be. From understanding your specific goals to handling the technical details, we've got you covered.
Let's Talk Shop
FAQs for Music for Business
Get answers to all your questions about our Music for Business solution, including how it can enhance your in-store experience and the benefits it provides, right here in our FAQs.
What is Music For Business?
Music For Business is a solution offered by us that provides businesses with customizable music playlists to enhance their customers' in-store experience.
Can I choose the songs that play in my business?
Yes, you can choose the songs and create custom playlists to fit your brand and audience.
Is the music licensed for commercial use?
At CUSTOMtronics Sound, your business is always protected with our full commercial licensing. We ensure your peace of mind by including relevant PROs (ASCAP, BMI, and SOCAN) for businesses in the U.S.A and Canada. For licensed music needs outside of these regions, simply contact our team. We're here to help.
Can I change the playlist at any time?
Yes, you have the ability to change your playlist at any time to fit the mood and needs of your business.
Is Music For Business available in all regions?
Availability may vary by region, please contact us to see if Music For Business is available in your area.
How do I get started with Music For Business?
Contact us to learn more and start enhancing your customers' in-store experience with Music For Business.
Can I import my pre-existing playlist?
Yes. You can import your pre-existing playlist. If needed, we can add more songs that match the mood and update it regularly.
Personalized Sound Solutions for Your Business
Our custom sound solutions are more than just background music; they're a strategic asset that enhances your brand and engages your customers.