Solutions
Tailor Your Message for Maximum Impact with Digital Signage
Our digital signage solutions give you the power to reach your audience with personalized, real-time updates and drive real results.
Unmatched Support and Value for Your Business
Experience Customer-Centric Digital Signage Solutions
At CUSTOMtronics, we understand the importance of effective and engaging digital signage. That's why we offer a customer-first approach to our solutions, with a dedicated Personal Account Representative for each customer. Our team is committed to serving you with a servant's heart and providing personalized support for your business needs. Choose CUSTOMtronics for a truly elevated digital signage experience.
Testimonials
What our clients say about us
"Thank you for your attention to detail and our schedule; I'm glad we changed to your company."
"They showed such a dedication to helping me understand the process and truly making sure everything was set up the best possible way. It was great working with Customtronics!"
"Your selection of music provides me exactly what I need."
Effortless Digital Signage
Control Your Atmosphere and Create a Consistent Experience with Our Cloud-Based Software & Hardware
Take control of your digital signage with our cloud-based content management software and hardware. Create a consistent experience for your customers while focusing on running your business instead of physically updating each location with new content.
User-Friendly Content Management
Effortlessly Manage Your Digital Signage with Our Cloud-Based CMS
Take control of your digital signage with ease using our cloud-based content management system. The user-friendly interface allows you to access and display a range of content, including images, videos, PDFs, social media, interactive websites, touch content, news, finance, and weather feeds, all with just a few clicks.
Customizable Signage Hardware
Tailor Your Digital Signage to Your Brand and Budget with Our Customizable Hardware Solutions
Choose from a range of features and content types with our customizable digital signage hardware solutions. No matter your budget or brand, we can help you find the perfect hardware solution to showcase your brand to your customers.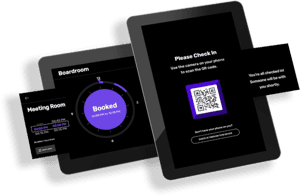 Streamlined Check-Ins and Room Bookings
New:

Simplify Employee & Guest Management with Our Effortless Check-In System
Make workplace management a breeze with our cloud-based check-in and booking software. Handle employee check-ins, visitor management, conference room reservations, and desk booking with ease, so you can focus on your business.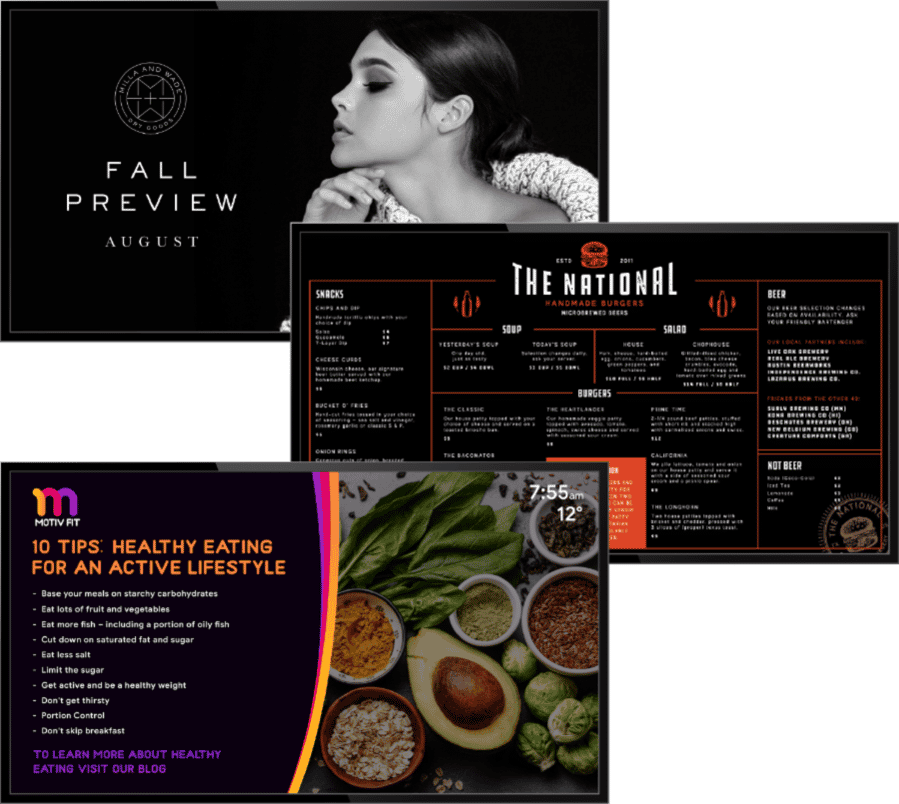 Enhance Your Brand with Digital Signage
Showcase Your Business with Customized Digital Signage Content
Elevate your brand with custom digital signage content, designed to match your unique style. Our expert creative team will work with you to bring your vision to life, with designer-created templates, logo and brand color integration, and the ability to add your own voice to your messages.
With our cloud-based content management platform, updating and displaying your content is simple and effortless. Our platform offers a range of signage options, from menu boards and deli signs to maps and meeting room displays, to help you optimize the customer experience, promote products, and drive revenue.
Take the first step to enhancing your brand with digital signage. Click the button to connect with our team today.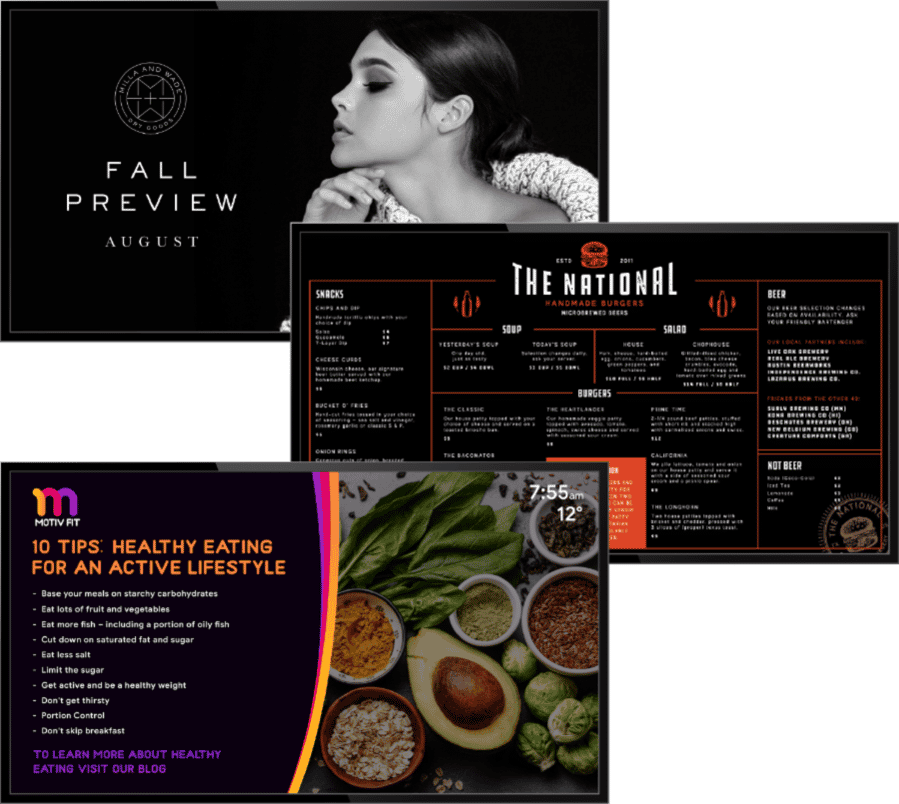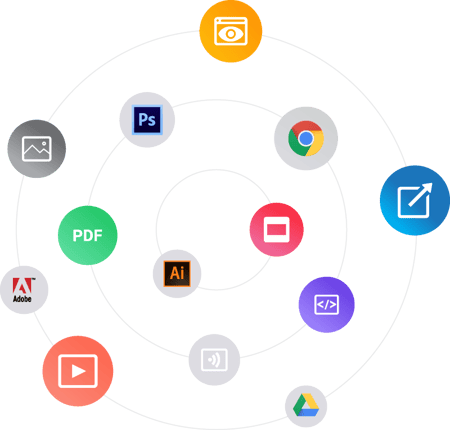 Simplify Your Digital Signage Workflow
Boost Your Brand's Impact with Our User-Friendly Platform
Stop struggling with complex tools and disjointed workflows. Our digital signage software seamlessly integrates with Adobe® Suite, Google Drive™, and other popular applications to make managing your content a breeze. With a clear message and engaging visuals, you'll captivate your audience, drive results, and watch your brand grow like never before. Transform your digital signage experience and let your message shine with our easy-to-use platform.
Tailored Solutions for Your Industry
Elevate Your Business with Digital Signage Made for Your Industry
Let our cloud-based digital signage hardware help make a powerful impact in your industry. Our solutions have served a range of industries, including:
Gyms and fitness centers

Healthcare

Food service and restaurants

Retail

Grocery stores

Finance and banking

Manufacturing

Transportation

Schools

Gas stations and convenience stores.
With digital signage, you can improve the customer experience, communicate important information, establish your brand as an industry leader, streamline logistics, and provide emergency messaging. Showcase your brand effectively and consistently, whether it's at a single location or across your enterprise.
In-Store Digital Signage & Audio Solutions
Get Expert Help with Your System Design & Implementation
Implementing a new digital signage and audio system for your business can seem overwhelming, but with the help of our team of experts, the process is hassle-free. We specialize in these projects and will work with you every step of the way to ensure a successful setup. From understanding your specific goals to handling the technical details, we've got you covered. Trust us to bring your vision to life, so you can focus on your business.
Let's Discuss Your Vision
FAQs About Our Digital Signage Solutions
Got questions about our digital signage solutions? We've got answers. Dive into our FAQ to learn more about the platforms we support, the hardware we use, and how we can customize a solution for you.
What types of hardware does CUSTOMtronics use for digital signage?
We utilize a diverse range of hardware options including BrightSign players, Android devices, Amazon FireTV sticks, WebOS, and Windows-based systems. This allows us to offer tailored solutions that meet your specific needs.
Can I use my existing hardware with CUSTOMtronics digital signage solutions?
Yes, our solutions are versatile and compatible with a variety of hardware platforms.
Can your digital signage integrate with other technologies?
Yes, our digital signage solutions can integrate with various technologies like touchscreens, motion sensors, and more for a dynamic user experience.
What are the energy efficiency features of your digital signage?
Our digital signage solutions come with energy-saving modes and automatic brightness adjustments to optimize energy consumption.
How secure are the digital signage players that CUSTOMtronics supports?
Security is a cornerstone of our digital signage solutions. We collaborate with industry leaders known for their robust security features, including secure data transmission and storage, as well as advanced device management capabilities. This ensures that your content and data are protected at all times, giving you peace of mind as you manage your digital signage network.
Do you offer any packages that include hardware?
Yes, we do offer select packages that include hardware. Our aim is to provide you with a comprehensive solution that meets all your digital signage needs.
Elevate Your Digital Signage with Our Support
At CUSTOMtronics, we are dedicated to elevating your digital signage experience. With a focus on customer satisfaction, each customer is assigned a Personal Account Representative for personalized service and support. Join us on the journey to elevate your digital signage with our commitment to excellence and exceptional customer support.