Music For Business

In-Store Audio Messaging

Digital Signage

On-Hold Music

On-Hold Messaging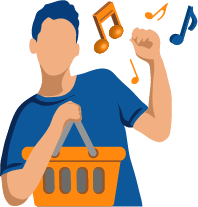 Magnify your In-Store Music Experience
Creating a personal playlist can seem intimidating and costly, but don't worry - CUSTOMtronics is here to help! We can assist you in starting your playlist from scratch or refining and expanding your existing one. Our goal is to give you a unique, emotion-filled music experience for your visitors.
Do you prefer a plug-and-play option?
Take advantage of our professionally-made channels tailored to different industries, combine several of your favorites, or upload your playlist for your retail music solution.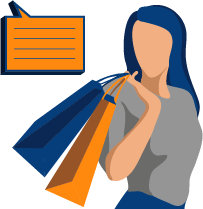 Timed audio messaging for a personalized experience
Interweave store announcements, product announcements, and promotions into your in-store music playlist for a tailored experience. With our audio messaging solution, you can schedule key messages to play at specific times of the day, week, or by region, ensuring your customers hear the right message at the right time. This personalized approach can help increase customer engagement, drive sales and improve the overall shopping experience.
Need Professional Voice-Over Talent for Your Audio Messaging?
We have a team of professional voice-over artists ready to bring your audio messaging to life. With experience working on national and global accounts, our talent can provide the perfect tone to match your brand and message. Request sample clips when speaking with your Personal Account Representative.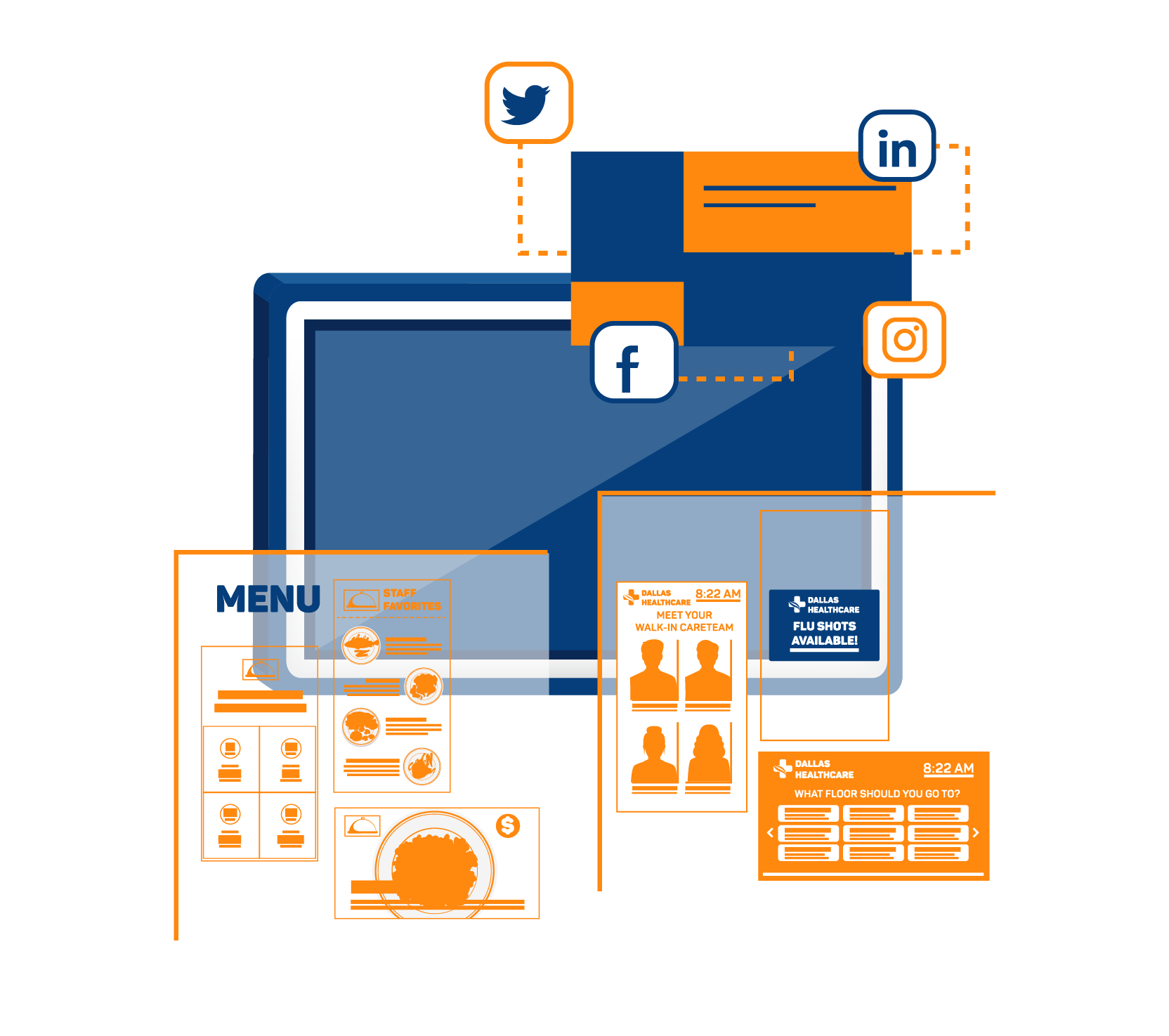 Customizable and Dynamic Content
Our digital signage allows you to easily create, update, and schedule content to keep your customers informed and engaged. From menu boards and promotional offers, to live news and weather updates, you can tailor your digital signage to fit your specific needs and goals. With the ability to update your content in real-time, you can ensure that your customers always have access to the most current information
Want to bring your unique content idea to life?
Our team of designers can help develop and strengthen your brand identity through the creation of custom templates and logos that align with your business's aesthetic and messaging. With our help, you can create a consistent and cohesive look and feel across all of your digital signage, helping to establish a strong brand presence and stand out from the competition.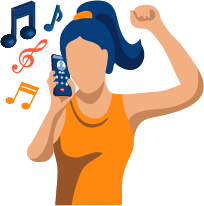 Expand our fully licensed music to your phone lines
Do you feel like your customers are no longer enjoying the "free" on-hold music you provide? Give them something familiar and pleasing to listen to while they wait by playing the same music they love while in your store.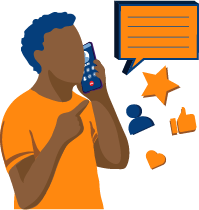 Key messaging to a captive audience
Do you want to create the perfect tone for your upcoming conversation, reassure your customers, and even look for potential opportunities for upselling? If so, then let's arrange a call to discuss how Voice Over Talent can help your brand or new campaign.
Testimonials
What our clients say about us
"Thank you for your attention to detail and our schedule; I'm glad we changed to your company."
"They showed such a dedication to helping me understand the process and truly making sure everything was set up the best possible way. It was great working with Customtronics!"
"Your selection of music provides me exactly what I need."
We Are Here To Serve!
You're our #1 priority
At CUSTOMtronics, we don't want to be just another vendor for you; we want to be your partner. If you're starting from scratch or aiming to improve your current in-store media system, you can rely on us to be your first point of contact. We guarantee that we will always answer the phone, reply to emails promptly, and arrive when we say we will.
Additional Services
One phone call for all of your in-store media needs
Audio & Video Systems
Designing & Implementing your system
If you're feeling overwhelmed by the prospect of implementing a new system in your store, our team of dedicated experts can help. We specialize in these sorts of projects and will work closely with you to ensure that your new in-store media system is set up and functioning properly.
We have the knowledge and experience necessary to handle the challenging aspects of the project, so you don't have to worry. We'll work with you to understand your specific objectives and ensure that your new system meets all of your needs. Trust us to handle the technical details so you can focus on running your business.
CONTACT US FOR MORE INFORMATION
Music Playlist
Tailored to your business
With more than fifty years of expertise, we can help you create the impression you want for your brand through music. We are ready to bring your vision to life.
LET'S BRING YOUR BRAND TO LIFE
In-Store & On-Hold Messaging
CUSTOMtronics Voice Over Talent
Allow CUSTOMtronics to assist you in selecting the perfect Voice-Over artist for your script to bring your in-store and on-hold messaging to life.
REQUEST A VOICE OVER SAMPLE
What sets CUSTOMtronics apart from other in-location media companies?
At CUSTOMtronics, we pride ourselves on our commitment to customer service and our "servants heart" approach. We believe that our clients' needs should always come first, and we go above and beyond to ensure that they are satisfied with our work.
In addition to this, our team has a wealth of technical knowledge and industry experience, which allows us to deliver high-quality results every time.
How does CUSTOMtronics ensure high-quality service?
At CUSTOMtronics, we understand that high-quality service is of the utmost importance to our clients. That's why we have a comprehensive process in place to ensure that our clients receive the best possible service.
Our process starts with an initial consultation, during which we get to know our clients and understand their specific needs. We then move on to project planning, where we tailor our services to meet those needs. Once the project is underway, we conduct regular check-ins to ensure that everything is on track and that our clients are satisfied with our progress.
And once the project is complete, we conduct post-project evaluations to ensure that our clients are completely satisfied with the work we've done. We also take a "servants heart" approach, putting our clients' needs first, and work closely with them to understand their specific needs.
To ensure that our clients receive the best possible service, we also invest in thorough training for our employees and have strict quality control measures in place.
How can clients contact CUSTOMtronics for support or assistance?
Clients can contact CUSTOMtronics through a variety of channels, including phone, email, and online contact forms.
We have a dedicated customer support team that is available to answer any questions or concerns that you may have. In addition, we have extended hours of operation and are available for emergency situations as needed.
Does CUSTOMtronics offer any guarantees or warranties for its services?
Yes, CUSTOMtronics offers guarantees and warranties for many of our services. These guarantees and warranties may vary depending on the specific service provided and the client's particular needs. We encourage clients to ask about the terms and conditions of our guarantees and warranties, as well as any exclusions or limitations that may apply, during the consultation process.
Overall, our goal is to provide our clients with the peace of mind that comes from knowing that they are working with a reliable and trustworthy in-location media partner that they can count on long term.
How can in-store media solutions from CUSTOMtronics benefit my business?
In-store media solutions from CUSTOMtronics can help your business in a variety of ways. For example:
Music for Business can improve the ambiance of your store and create a more inviting environment for customers.
Digital signage can be used to promote products and special offers, provide important information, or display targeted ads.
In-store messaging can be used to communicate with customers in real-time, whether it's through announcements, emergency alerts, or promotional messages.
On-hold music and messaging can help keep customers entertained and informed while they are waiting on hold.
TV can be used to provide entertainment or information for customers.
LTE Business Internet can provide a reliable Internet connection for customers and employees, helping to improve efficiency and productivity.
What support and maintenance options does CUSTOMtronics offer for in-store media solutions?
CUSTOMtronics offers a range of support and maintenance options for in-store media solutions. Our team is available to answer any questions or concerns that you may have, and we offer ongoing support to ensure that your systems are running smoothly. We also have a process in place for handling repairs and replacements if any issues arise.
In addition, we offer regular maintenance and updates to keep your systems up-to-date and running at their best. Our goal is to provide our clients with the peace of mind that comes from knowing that they are working with a reliable and trustworthy in-location media partner that they can count on long term. Overall, these FAQs should help to convey that CUSTOMtronics is a customer-focused in-location media company that is "here to serve" its clients with a range of high-quality in-store media solutions.
Going Forward
Our promise to you
At CUSTOMtronics, we recognize that our success is linked to yours. That is why we are devoted to helping you accomplish your objectives and will stay by your side in the long run. We are devoted to forming connections and look forward to fulfilling all your audio and video needs.